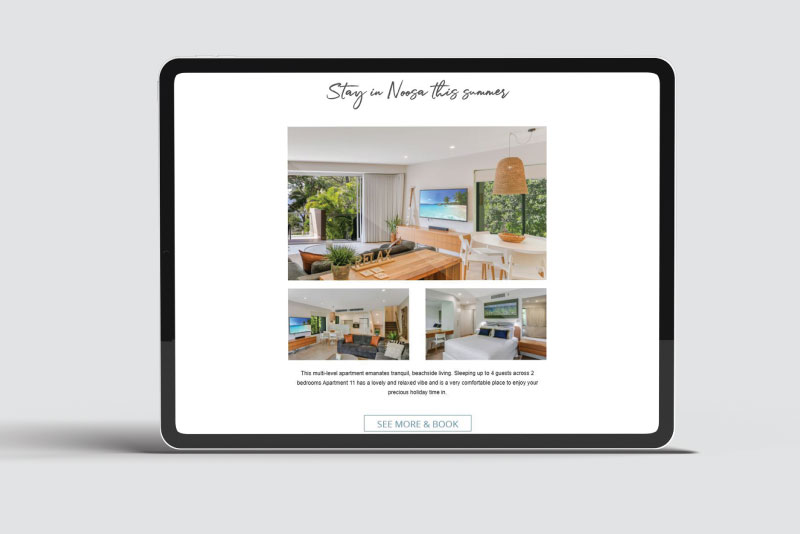 Email marketing Noosa…keeping the love alive in the 20's
Ever since the first email marketing blast was sent way back in 1978, many of us are still loving a long-term relationship with our favourite brands! But ONLY if they can talk the talk and offer the goods…
What's the secret to lasting relationships? Great communication
Your relationship with your customers is no different in this respect. If you're not communicating anymore your relationship will start to breakdown. However, this can be avoided by effective communication.
Email marketing is still one of the most successful ways you can speak to your people (target audience). This is because nearly half the world's population uses email, and this keeps increasing.
It's also a lot easier to personalise emails that speak directly to people and send tailored content based on how people interact with your brand (business personality).
Basically, email marketing is one of the best and most personal ways for brands to develop and maintain lasting, meaningful relationships (leads) that result in sales and loyalty.
Which brands do you stay loyal to and why?
Think about the companies that you've subscribed to – on purpose! Or, when you've bought a product or service online and you love the brand so much that you must know when their new products drop. Immediately. And then there's the brands that let you know about the things you're interested in most. This is the sweet-spot between a brand and their people.
When your business hits the email marketing sweet-spot, this happens:
1.  A lead gets your email and doesn't ignore it!
2. The subject line hooks them in.
3. They open the email and love what they see.
4. They click on at least one link and are taken to that 'fresh as' content.
5. They don't unsubscribe. Maybe ever.
6. They buy your product or service. Result.
You get brand loyalty and lots of lovely sales. Nuff said.
CRM management – know your people!
To be successful, you must understand who your people are and what is most important to them. Although this sounds obvious, it's very easy to spam people with too much information that isn't relevant or interesting. Therefore, we take time to understand who your people are and what motivates them to keep coming back for more.
We implement meaningful, engaging, and effective CRM (Customer Relationship Management) campaigns.
We make everything measurable, then share the results of your email marketing campaign in an uncomplicated way, so you have a complete understanding of your return on investment (ROI).
We also understand the power that well-crafted copy and user-friendly email design can have.
All of this goes into nurturing your customer relationships, so your people remain loyal to your brand with repeat business and referrals. Ultimately, our email marketing services will help you connect with your people, promote your brand, and increase sales.
Email marketing is a large part of what we do for our clients, so: