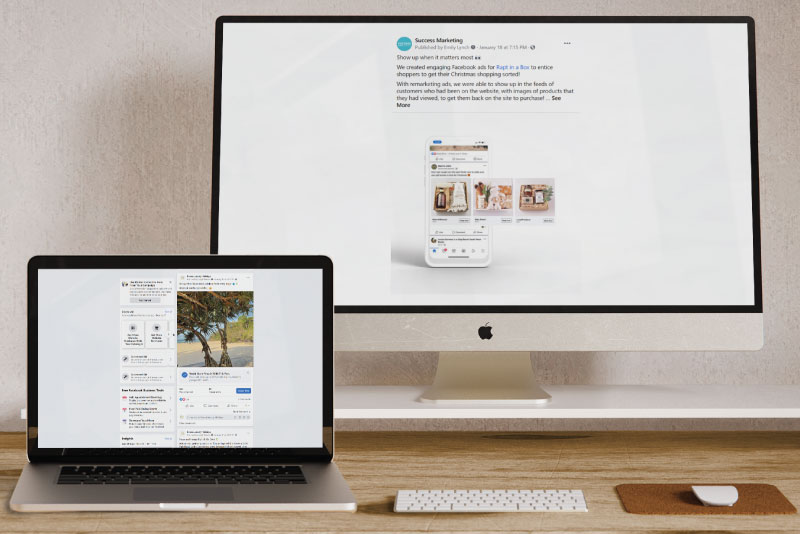 It's a fact, Facebook Ads work – Noosa marketing Agency
With over 1.7 billion users worldwide, no one can argue that this data-guzzling giant isn't a pro in finding out who you are and what you want. This means that Facebook advertising will help even the smallest business thrive. Let's use Facebook Ads to grow your Noosa business at our Noosa marketing agency 
Hit your targets every time
Facebook is the most advanced social media advertising machine platform EVER. You can advertise to people through the following categories: demographics, interests and behaviour. Within these categories there are a gazillion options to target the exact people you want. This is the same as Instagram, as Facebook also owns this slightly smaller giant.
BEWARE: if you're too specific, you risk excluding a whole load of potential customers. But, if you're not specific at all, your advert will reach people who may not be interested.
How do Facebook Ads find the right people?

The stripped-back (practically naked) steps Facebook Ads take to get you customers:
1. Firstly, the Facebook pixel (a bit of code) needs to be added to your website.
2. By carefully selecting categories from people specifications, known as targeting options. This is how Facebook Ads can find the type of people it wants.
3. It then follows those people around the internet and collects all their juicy data – to find the people that are most likely to engage or purchase from your brand.
4. Once it's full of data, it will make some clever calculations on who these people are and what they want.
5. Then it makes its move, showing people adverts of products and services it knows they'll likely buy.
6. It stores all the data in Facebook Ads manager, where you see your brand visibility and sales explode (in a good way).
And where exactly do these Facebook Ads get seen?
Depending on who you're targeting, Facebook Ad placement can massively influence click through rates (CTRs). Your ads will get seen on: 
Facebook news feed: good for enticing fresh blood to your brand.
Facebook right column: better for people who know you a bit (retargeting).
Mobile news feed: ideal for increasing interaction with your brand or sell stuff.
Instant articles: less expensive and display 10 times faster.
In-stream videos: can be served on third-party sites, so you'll reach more people.
Suggested videos: helpful for growing brand awareness.
Facebook Marketplace ads: great for local and brick-and-mortar businesses.
We know how to get people from cold to hot
Facebook Ads are the bomb for turning cold leads (potential customers) into hot sales (actual customers). How so? Through a swanky template known as a Facebook funnel.
When your Facebook funnel's set up, you'll have adverts running at the top (cold), middle (warm) and bottom (hot). Every ad is tailored to engage with your people (target audience) – whether they're a cold audience who's never heard of your brand before, or a hot audience who's sizzlin' and ready to buy.
We will keep your people's temperatures in check and ensure your Facebook Ads account is optimised to make the most of this fancy funnel.
Facebook Ads Noosa
If you're looking for a team of experts to set up your Facebook advertising and successfully bring in leads for your Noosa business, give us a call or contact us here.